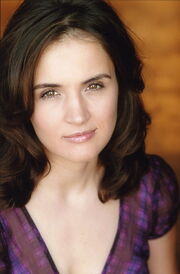 Kristen Rutherford is an American actress and writer based mainly out of New York. She contributed the voice of Melissa in I Love Bees.
Her formal education includes two Bachelor's degrees in Fine Arts and Creative Writing from the University of Mary Washington, as well as a certification from the American Academy of Dramatic Arts.
Rutherford had appeared in several theatrical performances, film roles, and television shows. Among her appearances are Saturday Night Live and the soap opera As the World Turns. Her career has given her a wide range of talents, ranging from the ability to speak numerous dialects, Ballroom, Jazz, and Modern dance techniques, and singing.
Rutherford has numerous hobbies, which include Ice Skating, Roller Skating, Speed Walking, Swimming, Tai Bo, and Yoga. She also admits on her website that she has Xbox, GameCube and PS2 "But still manages to leave the house every day."
She has been married to fellow actor Vincent Rutherford since 1998.
External links
Edit