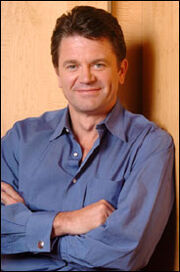 John Michael Higgins
(born February 12, 1963, in
Boston, Massachusetts
) is an American actor whose film credits include many of
Christopher Guest's
mockumentaries
and the role of
David Letterman
in HBO's
The Late Shift
.
Recently, Higgins has gained more recognition by being featured in trailers and television commercials for Fun with Dick and Jane and The Break-Up. His work as a voice actor includes the role of Judge Mentok in Harvey Birdman, Attorney at Law.
In the Halo series he is the voice actor of 2401 Penitent Tangent a fictional character featured in the video game Halo 2.
He has one son Walter born on 29 August 2006
Favorite piece of music is Elgar - Cello Concerto No. 1.
External links
Edit