"INCOMING CONTACT, UNKNOWN CLASSIFICATION!"
This article contains information on new or unreleased content, and may not be complete, confirmed or correct. Please update it as soon as any relevant, up-to-date, and accurate material is available.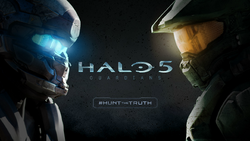 Hunt the Truth, sometimes stylized as HUNTtheTRUTH, was a promotional marketing campaign for Halo 5: Guardians.[1] It consisted of two seasons of a series of weekly episodic audio logs providing backstory and information regarding John-117's history and involvement in the Halo 5: Guardians campaign.[1] New audio logs were released for Season 1 on the Hunt the Truth tumblr page each week from March 22 until E3 2015 on June 16, 2015.[1] Likewise, Season 2 aired on the same page beginning in September 2015 and continued until the release of Halo 5: Guardians on October 27, 2015.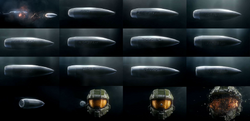 On March 19, 2015, Frank O'Connor tweeted a link to huntthetruth.tumblr.com.[2] The page had a countdown to March 22, 2015 at 1:00am UTC and an image of a bullet with a "TRAITOR" engraving. On March 20, a video was posted showing the bullet being fired from a sniper rifle and hitting John-117's helmet, making it shatter.
When the countdown ended, the bullet video was updated with a new version that allowed a viewer to "drag" the video backwards or forwards, slowing it down enough to see several words engraved on the bullet: SON, ABDUCTEE, VICTIM, ORPHAN, RECRUIT, SOLDIER, WARRIOR, ALLY, HERO, SAVIOR, and TRAITOR.